 Buy sod by the piece or have it delivered by the pallet, at your local home improvement store!
At Harmony, our goal is to enhance and restore a sense of balance, satisfaction and enjoyment in the lives of our customers through a better outdoor living experience.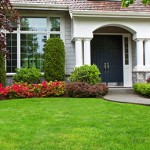 Buyers look at many aspects of a home before making an offer- just as you did when you bought the home you are now reselling. It's time to step back and take a good look at your entire property from across the street. "Curb Appeal" means not only new paint and windows but includes your…
Looking for fresh tips, techniques and good old fashioned know-how? Join our expert lawn care newsletter.