Harmony Sponsors PGA Golf Pro Will Wilcox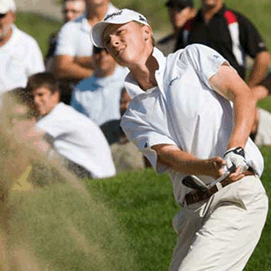 Harmony is pleased to announce the sponsorship of pro golfer Will Wilcox. Will plays on the PGA affiliated Web.com Tour.
"As a competitive athlete, and someone who lives his life outdoors on the links and greens, we felt Will was a great fit for the Harmony family of lawn products," states Mike Pope, VP of Sales for Harmony. "Will has demonstrated tremendous potential for growth and success and that mirrors the potential of Harmony. In a way, they share the potential to be game changers."
Will turned pro in 2009 and hails from Alabama. He attended the University of Alabama and Clayton State University. His best finish so far this year is 1st place on the Web.com Tour, at the South Georgia Classic, in Valdosta, Georgia. He currently ranks 3rd in Money Leaders on the Web.com Tour.
Will comes from a golf family. His mother is women's coach at the University of Alabama at Birmingham. Will ranks Cascata GC in Las Vegas and Carambola G&CC in St. Croix as his top picks when it comes to courses to play. He hopes someday to also play Augusta National.