Be Careful Out There! Beware of Lawn Mower Dangers this Summer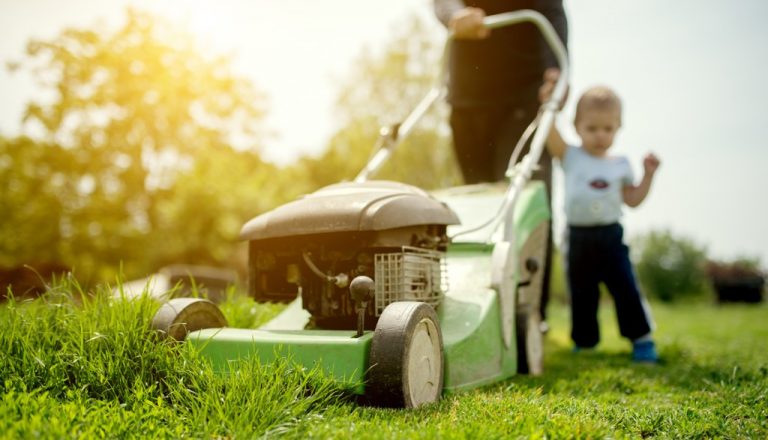 Summer is here and so is the desire to have a beautiful lawn to make backyard play and entertaining more enjoyable. A crucial part of maintaining that gorgeous lawn is
watering the grass properly according to the type of grass and also for cutting the grass to the proper height for root protection.
About that root protection…
Another extremely important factor in summer lawn care is safety. Yes, lawnmower accidents are more common and dangerous than you can imagine. The average American mows their lawn about 30 times per year- and much more in Southern climates. Nationally, about 69 people die due to lawnmower incidents based on data from a 10-year period. The deaths were up to 100 in 2014. More than 250,000 people are hurt by lawnmowers each year, according to the American Academy of Pediatrics. And sadly, children account for most injuries; every year, about 800 children are run over by riding lawn mowers or small tractors, and more than 600 of those incidents result in amputation. For children under the age of 10, lawn mower accidents are the most common cause of major limb loss.
The statistics are eye opening and tragic. Here are some safety rules- although you may think these are common knowledge-the fact is- most people do not follow them!
Before You Mow
Pick up stones, toys, and debris from the lawn to prevent injuries from flying objects-lawn mower blades rotate at approximately 200 mph
Wear hard-toed shoes, not flip flops
Use eye and hearing protection
Start and refuel mowers outdoors, never in a garage
Only refuel the motor when it is turned off and cool
While You Mow
For push mowers: Only use mowers with automatic shut-off abilities, such as those with a control that stops motion when the handle is released
For riding lawn mowers: Make sure your mower includes an automatic shut-off when a rider is not in the seat. Do not allow children to sit on your lap while mowing-no matter how fun it seems to be.
Never mow in reverse
After You Mow
Turn off the lawn mower completely
Do not remove the grass catcher or unclog the discharge chute until the mower is off
Don't become a statistic! Be mindful of the common-sense precautions above and have a fun-filled, safe summer in your lush, green yard!