Easy ways to transform your backyard into a staycation destination
Extend your summer vacation fun beyond whatever time off your family has from work and school. These days, families are transforming their backyards into staycation destinations. Forget pricey hotels and astronomical amusement park admissions. Invite the gang over for your own brand of excitement.
Here are two simple steps for creating your backyard staycation destination:
Write down the elements of your perfect family vacation. Consider your family's favorite activities, surroundings, and even vacation-style foods and beverages.
Now think of creative ways to incorporate some of these elements into your own backyard getaway. Approach this staycation destination as if you were creating a real vacation "event". Only this one will be there for your long-lasting enjoyment, not just a week or two.
Easy backyard transformation ideas
If you prefer a tropical getaway. Create an area where you can position a comfy hammock, surrounded by palms, hibiscus and other tropical plants. (If you live in a colder climate, keep the plants in pots and on rollers, so you can move them into a sheltered area once the temperature starts dropping.) Set up a kiddie pool and sandbox so the kids will have their own "beach". Add a few tiki torches for atmosphere. Kick off your staycation with an outdoor luau. Pick up some inexpensive leis at your local party store. Prepare Hawaiian chicken on the grill. Serve tropical fruits and a refreshing pineapple punch.
If you enjoy a mountain retreat. Pitch a tent in the back yard. Equip it with air mattresses, flashlights and sleeping bags. Daytime activities can include anything from nature scavenger hunts to an old-fashioned game of tag. Later, explore the night sky as you share s'mores; tell scary stories; live stream family movie night on your portable DVD player; or belt out a few silly camp songs.
If you can't resist a water slide. Water fun can be as simple as setting up an area for running through sprinklers and water balloon tosses, to backyard water slides, above-ground pools, and outdoor hot tubs and spas. Keep homemade Popsicle treats on hand in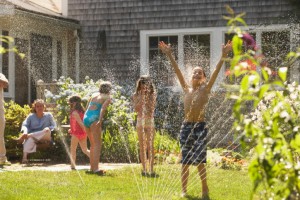 everyone's favorite flavors. Or make some homemade ice cream, and set up an ice cream sundae bar with a variety of toppings. Then clean sticky fingers by resuming your water fun!
If your perfect vacation involves staying active. Create one or more game areas, so there's always something different to do. Bean bag tosses, basketball hoops, hopscotch areas, trampolines, badminton, croquet, horseshoes, playsets with swings and forts … sit down with the family and brainstorm a variety of games. Be sure to save space for the outdoor BBQ plus a handy cooler, so that you can stay hydrated as you play.
If you crave peace and quiet. Your backyard staycation might include a gazebo shading a couple of luxurious lounge chairs. Hang bird feeders nearby so you can listen to their calming chirps as you indulge in your favorite summer reads. Scent the air with flowering shrubs. Pick up some prepared summer salads and fresh fruit at the supermarket so you don't have to worry about cooking. Sip on refreshing iced tea or chilled fruit-infused water. Close your eyes and imagine you are being pampered at your dream spa.
Once you've transformed your backyard into a staycation destination, the most important thing to remember is to mentally "go on vacation" each time you open your back door. Take care of the chores and projects ahead of time. Then spend time outside and make some lasting memories.