Preparing Your Florida Lawn for Spring
Advice from Buck's Backyard
5 Tips to Help You "Spring Ahead!"
So finally… Spring is here! This is Florida's prime time when the weather is sunny and not too rainy. The days are getting longer and warmer and the beach, golf courses, and any outside activity are calling us to come play. But we're not the only ones wanting to come out and play — our landscapes and lawns are coming alive and they need your attention, the sooner the better!
In a matter of a few short weeks or days, the grass will need mowing weekly and every bug known to man is here and getting wound up. In fact we have already found active Chinch bugs on lawns and the aphids are all over the new growth on our shrubs and plants. Don't let the nice weather lull you to sleep. Now is the time to get started on your lawn and landscape before it gets too hot and humid and the bugs get dug in. Below are some Springtime tips for your lawn and Landscape.
1) Get your irrigation fully operational and working correctly. I can't stress this enough. This time of year usually the rains stops coming and we are hot and dry and our lawns and landscapes take a beating.
2) Mulch your landscape. The leaves have stopped falling, so rake em up and get the mulch in your beds. If the old mulch is starting to form a matt then get it out of there. This will prevent water and nutrients from getting to the roots. The new mulch will allow the water and nutrients to get to the plant and also prevent evaporation and actually hold the water in for the plant, and it just looks good.
3) If you are a do-it-yourself person, then get your lawn equipment up and running. Get those blades sharpened. This is a very important part of a good lawn. Having a sharp blade allows the cut to be clean and seal correctly — preventing disease and insect issues.
4) If you have any bare areas or weak areas in the lawn now is the time to plug or re-sod your lawn. Having a fuller, thicker lawn will help prevent weeds from taking hold and erosion from setting in.
5) Talk to your landscaper/maintenance provider and ask questions on all the above. Tell them you want them to report any issues they find on the lawn. They should be on it weekly and see changes. They can be your first line of defense. Also tell them you want them to change directions every time they mow as not to rut of leave permanent tracks in it.
These are just some of the most important tips for you and your landscape. As the summer progresses things will start to grow at a very fast pace and problems will arise at the drop of a hat. Be proactive with your lawn and landscape and look at it when you get a chance. Know what it looks like when things are good and then you will notice any changes that could harm your lawn, tree and shrubs. We here at Harmony Care can help out with all the above issues and concerns. Give us a call and set up an appointment. We will be more than happy to give your lawn and landscape a professional inspection.
---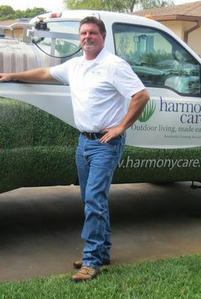 Buck Moon serves as the Certified Pest Control Operator for Harmony Care. In this role, he supervises field personnel and ensures all operations proceed in a safe and effective manner. He writes regularly on best practices for maintaining a healthy vibrant lawn in his home state of Florida.